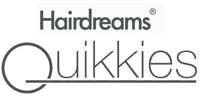 Quikkies premium tape-in extensions are a part of the world-famous Hairdreams brand. The company is known for its high-quality products. Only the finest natural human hair is used, with each strand hand-chosen for its appearance and overall health. A combination of innovation, strict manufacturing guidelines, and attention to detail make Quikkies the preferred choice for many people – including Hollywood celebrities.


The Quikkies Hair Extension Application Process
Each Quikkies extension consists of a small self-adhesive strip that is crafted from ultra-light microfiber gauze. Depending on the look you are going for, application can take between 45 minutes and one and a half hours. The extensions are available in 16" to 20" natural wave.

Quikkies are flexible and flat in shape. This allows the extension to remain in place while conforming to the natural movement and shape of your real hair. No special tools or processes are required. This product is available with highlight lowlights, and can be reused multiple times with wearing periods of four to eight weeks.

Maintenance will keep your Quikkies looking great. During the appointment, your stylist will remove the bond with an alcohol-based solvent. This is followed by a shampoo and blowout before re-taping the hair extension.


The Many Colors of Quikkies Extensions
Quikkies by Hairdreams come in a variety of color options. The company uses ethically-obtained human hair. Dark strands may be lightened over a 24 hour period until the shade the client wants is reached. Other strands, ranging from blond to black, are carefully processed to produce specialty hair.

Natural shades are available including varieties of blonde, brunette, auburn, and red. Clients can also choose unnatural colors like blue, pink, violet, orange, yellow, and red – even gray.


Should You Get Quikkies Tape-in Hair Extensions?
Hairdreams provides many style options with its Quikkies line of extensions. They are easy to apply and require no heating or special tools. Removal is also easy and leaves hair free of damage. They can last a long time but will require occasional maintenance appointments to keep them in place and looking natural.

Quikkies conform to the shape of the wearer's head and can be put up in a bun or tied back in a braid or ponytail. They are perfect for creating fuller bangs, longer locks, or asymmetrical styles. Contact Tiffany Taylor today to find out if Quikkies are the right hair extension for you.