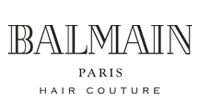 Balmain Hair is part of the Balmain Pairs fashion label. The company was established over 40 years ago, joining the textile trends of the catwalk with the services of the salon. They focus on quality over quantity, producing small lines consisting of best-selling products. Balmain was created by Pierre Balmain and currently embodies the edgy, sexy look loved by many. The Balmain brand has dressed a number of well-known celebrities including Kim Kardashian West, J-Lo, Sarah Jessica Parker, and Beyoncé Their extensions are crafted using 100% human hair that is ideal for wear with normal to thick densities.


The Balmain Hair Extension Application Process
Balmain extensions use the patented DoubleHair Silk system. This features 3.75" wide wefts that are hand-knotted. They are connected to 16" or 22" long human hair that's been infused with silk protein. Each panel can contain as many as 18 extensions and three layers. This allows them to support significantly more strands than most hair extension systems. The application process can take between two and four hours. Extensions are held in place using rings, clips, or keratin bonds that are located under the strands. Maintenance is recommended every five to seven weeks, depending on your natural hair's rate of growth. During the appointment, your stylist will remove the weft and move it closer to your scalp to account for the additional length. Balmain hair extensions can be worn for up to six months.


Balmain Hair Extension Color Options
There are many color options available with the Balmain system. The current palette contains a wide range of natural shades. The lightest tones include extra super and super light blonde followed by natural light and a light gold blonde ombre. There's natural ash blonde and more, with darker hair colors that include black, dark brown, mahogany red, and brown ombre. A variety of options makes it easier for a stylist to choose a hue that matches your natural hair color. Or you can add dimension with extension highlights.


Should I Wear Balmain Hair Extensions?
Balmain's products are long-lasting and come in beautiful colors. They can hold more strands than other systems, but offer a look that's just as polished and seamless. No glue or heat is required during application. If you want thicker results, then Balmain may be the right hair extension for you. The best way to find out which brand will give you the style you want is to talk to a professional. Schedule an appointment with Tiffany Taylor today and discover your best look with hair extensions.